What is test Care and is it for me?
Test care care ensures that your loved ones are supported during the night by one of our experienced at-Home carers. Being able to rely on a night-time service may be critical in ensuring that you can remain in your own homes.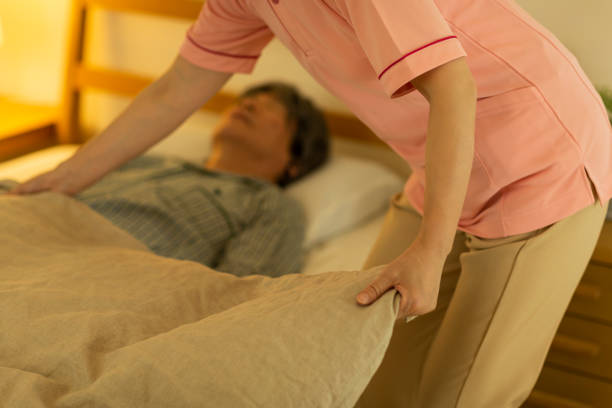 Test Care
Your loved ones may need one of our compassionate at-Home carers to be there should you need their assistance during the night hours such as turning throughout the night or needing medication to be administered.
Abbey Medical services. Home care team will ensure that your loved ones are supported and making sure. Any overnight tasks are completed with ongoing care and support.  
Nightly household tasks and personal care

‍Toileting care and assistance

‍Turning support – Regular help in changing positions to help avoid injury, or after a surgery.

‍Having someone to assist in progressive conditions such as Dementia.

‍The comfort of knowing a trained professional carer is there for your loved one throughout the night.
Some of the additional services. Abbey Medical Services provides overnight will include:
Sleeping Nights – This form of care is usually best for those who do not need regular additional support but may feel uncomfortable if they are left alone or unattended throughout the night. 
Waking Nights– This form of care is best for those who regularly wake up during the night, or those who need assistance to change position due to an injury or post-surgery conditions – but also if your loved ones need regular medication.  
Respite/Sitting Care. This is the ideal situation for those who are either happy with their current care, or those who are seeing if overnight care is the best option, you may want instead of your current care. Abbey Medical Services is flexible, and if someone we are providing overnight care to is waking more frequent. We will adapt and adjust our services to meet the requirements for you and your family needs.
To discuss further. Please call our friendly team today so we can work out the best care solutions including Night Time Care services, which you feel will be beneficial for your loved ones.